The deforestation debate has been fiercely contended for decades, particularly regarding the Amazon rainforest. Since the election of Brazil's right-wing president Jair Bolsonaro, the debate has become increasingly heated. Following his ascension to power in October 2018, there has been a 27 percent increase in the destruction of tropical forests in eastern Brazil.1 Bolsonaro insists that the Amazon belongs to Brazil and argues deforestation figures have been exaggerated.2 Environmentalists on the other hand, point out that protecting the Amazon rainforest is critical to preventing global climate catastrophe and use science to back up their claims.3
President Bolsonaro and the Deforestation Debate
Bolsonaro has been criticised by environmentalists and world leaders for his strong anti-environmental rhetoric and encouragement of deforestation in the Amazon rainforest.4 Whilst campaigning for the presidency, Bolsonaro promised to open Brazil's protected areas in order to promote economic growth.5 Since assuming the presidency, efforts to fight illegal logging, ranching and mining have been scaled back, opening the way for scaled up deforestation in the Amazon rainforest.5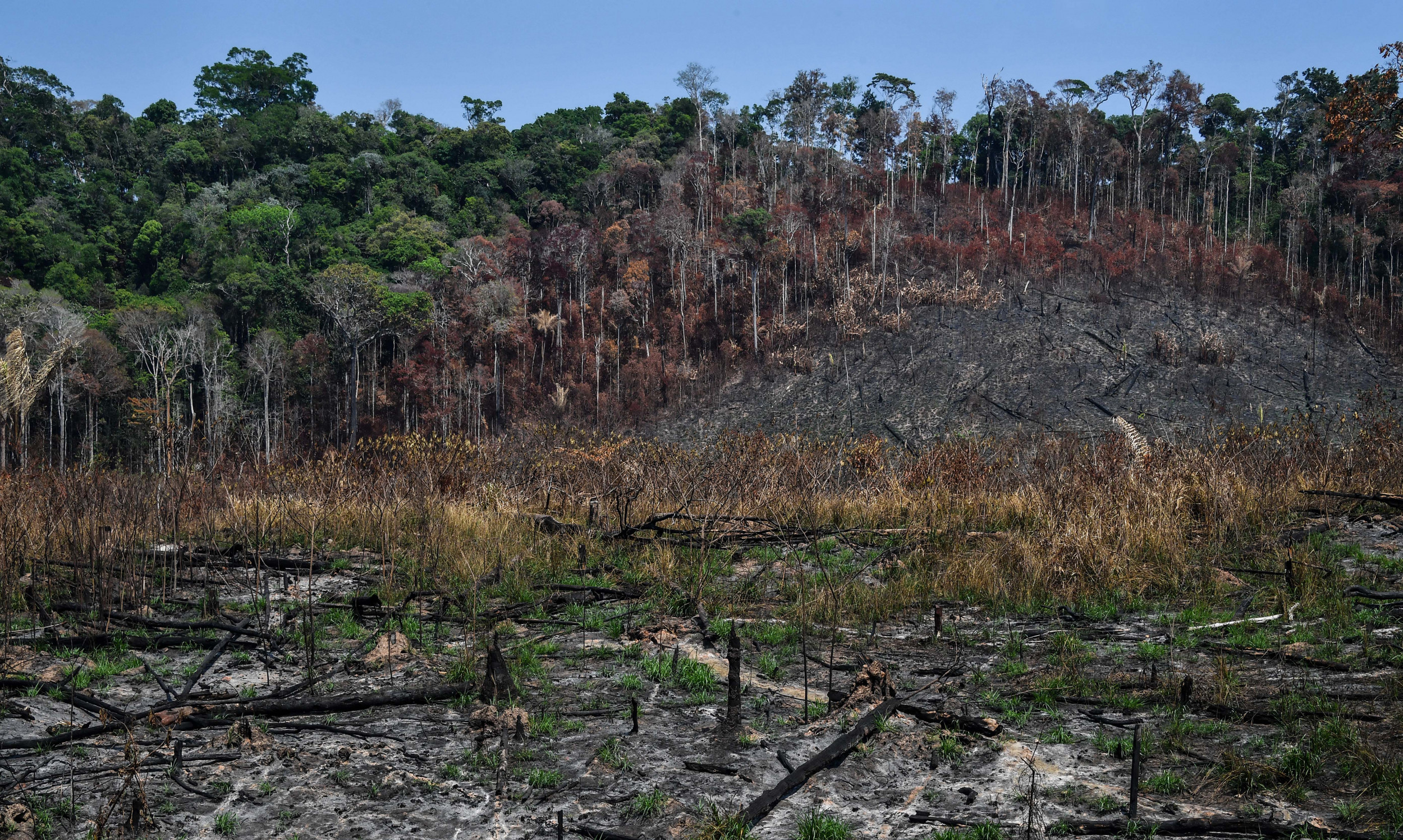 Economic incentives largely drive the deforestation in Brazil and elsewhere.6 Many Brazilians regard the Amazon rainforest as a significant national asset that can boost Brazil's economy.7 Accordingly, Bolsonaro has supported these Brazilians. He has asserted the rainforest is sovereign territory and furthermore denounced any international pressure to protect it as foreign meddling.87 In addition, the Brazilian president has repeatedly shown himself to be a skeptic of scientific evidence regarding climate change, dismissing it as a hoax.9 For instance, to the UN in 2019 he stated that it is a 'misconception' to consider the Amazon the 'lungs of the world'.8
Environmentalists and the Deforestation Debate
On the other hand, deforestation in Brazil and elsewhere has a detrimental effect on the world's climate.10 Trees are invaluable as a part of the solution to climate change.10 In short, protecting existing forests is absolutely key to reducing CO2 in the atmosphere because they absorb a large proportion of greenhouse gases emitted by human activities.3 Indeed, tropical tree cover alone can provide 23 percent of the climate mitigation necessary over the next decade to meet the Paris Agreement's goals and avoid climate change disaster.11 Estimates suggest it could take over 100 years to grow sufficient mature forest to significantly reduce our carbon emissions and therefore it is imperative to protect the forests we already have.10
Nevertheless, the deforestation debate in favour of protecting the Amazon is not merely because it absorbs so much CO2. All forests are home to extraordinarily diverse ecosystems. In fact, an estimated 90 percent of all terrestrial plant and animal species live within their trees.12 As the largest and most diverse rainforest on earth, protecting the Amazon also means protecting the 10 percent of all known species who live there.13 Deforestation threatens both species known to us and those unknown. Indeed, on average, a new species is discovered in the Amazon every two days.14 Besides the known species that are at risk of going extinct due to deforestation, environmentalists also draw attention to the huge number of new animals and plants that will never be discovered if deforestation continues.
Overall, the deforestation debate remains a thorny one and without a clear compromise. Overall, the situation in Brazil represents this with businesses and the current right-wing government arguing in favour of deforestation to boost the country's economic standing. However, the opposition from environmentalists internationally is substantial, as fears for a global environmental catastrophe continues to rise.
References
Fonseca, Iolanda. Deforestation Grew 27 Percent Between 2018 and 2019, Bolsonaro's First Year in Office. The Rio Times. https://riotimesonline.com/brazil-news/brazil/deforestation-grows-27-percent-between-2018-and-first-year-of-bolsonaro-government/ Published May 28, 2020.
Pavia, Will. Amazon rainforest belongs to Brazil not mankind, Bolsonaro tells UN. https://www.thetimes.co.uk/article/amazon-rainforest-belongs-to-brazil-not-mankind-bolsonaro-tells-un-2j2f55l2j The Times. Published September 25, 2019.
The vital links between the Amazon rainforest, global warming and you. WWF. https://wwf.panda.org/knowledge_hub/where_we_work/amazon/about_the_amazon/why_amazon_important/
Wallace, Scott. Brazil's new leader promised to exploit the Amazon—but can he?. National Geographic. https://www.nationalgeographic.co.uk/2018/10/brazils-new-leader-promised-exploit-amazon-can-he Published April 9, 2019.
Symonds, Alexandria. Amazon Rainforest Fires: Here's What's Really Happening. New York Times. https://www.nytimes.com/2019/08/23/world/americas/amazon-fire-brazil-bolsonaro.html Published August 23, 2019.
Jesus Crespo, Cuaresma and Obersteiner, Michael. Trade-offs between economic growth and deforestation. IIASA. https://iiasa.ac.at/web/home/about/news/170116-forest-dev.html Edited March 1, 2017.
Boadle, Anthony. Amazon fires scorch Bolsonaro's reputation abroad, but not in Brazil. Reuters. https://uk.reuters.com/article/uk-brazil-environment-politics-analysis/amazon-fires-scorch-bolsonaros-reputation-abroad-but-not-in-brazil-idUKKCN1VJ2JR Published August 29, 2019.
Amazon rainforest belongs to Brazil, says Jair Bolsonaro. BBC. https://www.bbc.co.uk/news/world-latin-america-49815731 Published September 24, 2019.
Miranda, David. Fires are devouring the Amazon. And Jair Bolsonaro is to blame. The Guardian. https://www.theguardian.com/commentisfree/2019/aug/26/fires-are-devouring-the-amazon-and-jair-bolsonaro-is-to-blame Published August 26, 2019.
Leahy, Stephen. How to erase 100 years of carbon emissions? Plant trees—lots of them. National Geographic. https://www.nationalgeographic.com/environment/2019/07/how-to-erase-100-years-carbon-emissions-plant-trees/ Published July 4, 2019.
Nunez, Christina. Deforestation explained. National Geographic. https://www.nationalgeographic.com/environment/global-warming/deforestation/. Published February 7, 2019.
Wildlife. American Tree Farm System. https://www.treefarmsystem.org/wildlifehabitat Accessed June 3, 2020.
Choi, Charles Q. A Few Tree Species Dominate Amazon Rain Forest. Live Science. https://www.livescience.com/40508-few-tree-species-dominate-amazon-rainforest.html Published October 17, 2013.
Gibbens, Sarah. New Amazon Species Discovered Every Other Day. National Geographic. https://www.nationalgeographic.com/news/2017/08/amazon-brazil-new-species-discovered-spd/ Published September 1, 2017.